Flames in 5: Midseason Report
The Calgary Flames are officially a little more than halfway through the season, sporting a 21-14-9 record. While the team certainly hasn't lived up to their high expectations, they're finally starting to round into form. Let's take a look at how the team's performed so far and what to expect going forward.
Matchup

29-14-1

21-16-9
Saturday, January 21
1 PM MT
Offense
To say the Calgary Flames have been lacking offensively would be an understatement. Simply put, their big summer acquisitions haven't quite been as advertised. Jonathan Huberdeau, acquired in the blockbuster summer trade that sent Matthew Tkachuk to Florida, has 31 points in 41 games. This after amassing 115 last season for the Panthers. Nazem Kadri has 35 after cooling off from his blazing start to the season. MacKenzie Weegar only has 12 points after 44 last season. Although they've started to pick it up lately, they're all well below the expectations set for them entering the season. Compounding the struggles of the new acquisitions are Flames that aren't performing up to normal expectations. Andrew Mangiapane is following up his 35-goal campaign from last year with only 9 so far, making his season a massive disappointment thus far. All this has led to a team that only scores 3.14 goals per game, good for 19th in the NHL.
Despite the disappointments so far, there is a reason for optimism. They're a top 5 NHL team in both CF% and xGF%, regularly outchancing their opponents. Despite the on-ice dominance, they've been a bottom-10 team in shooting percentage at 8.06. At some point, their on-ice dominance should turn into goals and when this starts happening, I like their chances.
Defense
The one part of this season that has been relatively consistent has been the Calgary Flames' ability to defend. Although the new addition of MacKenzie Weegar hasn't been as advertised offensively, this is only in points. His ability to transition the puck and create offense on the rush has been unmatched and he's been the Flame's best defender so far. His pairing with Tanev has dominated the NHL, forming one of the NHL's most dominant pairings. All other defenders have been as advertised, with Hanifin and Andersson continuing to be an excellent pairing. As a team, they've been fantastic at limiting chances and limiting quality chances against, sitting 7th and 8th in those metrics respectively. Aside from what seems like big mistakes ending up in their own net, the Flames' D corps has been excellent this year and have really rounded into form lately.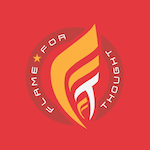 Want your voice heard? Join the Flame For Thought team!
Write for us!
Goaltending
This part is where it hurts. As I mentioned before, the Calgary Flames have had trouble converting chances into goals with a low shooting percentage. While some teams can cover this up with a high save percentage, the Flames have been the opposite. Both goalies have had good spurts from time to time, but Markstrom and Vladar have both been relatively subpar this season. The Flames rank 5th last in the NHL with a brutal 90.63 save percentage at even strength and the main reason for this has been the poor play of Markstrom. In 30 games this season, he's sporting a .893 save percentage overall and a .900 save percentage at even strength. Of all goalies that have played over 1000 minutes, he's bottom 5 in the NHL and has given up 10 goals more than expected. It's clear that Sutter has a preference for Markstrom over Vladar. So, if Calgary is to make any noise in the playoffs, Markstrom needs to return to the elite goalie we've seen him be.
Most Impressive Player – Tyler Toffoli
When the Flames acquired Tyler Toffoli last year in February, they knew they were acquiring a play-driving scoring winger that was familiar with the Sutter system. Unfortunately, his first season in Calgary didn't go very well, scoring only 23 points across 37 games. This season has seen a different story as Toffoli has 37 points in 44 games, being one of the most consistent scorers on the Flames while hitting an infinite amount of crossbars in the process. He's been a bright spot on the Flames' horrid PP unit and has generated the most individual expected goals on the team, giving reason to believe he could beat his career high of 58 points.
Tyler Toffoli scores on a sneaky good shot on the power play!

3-1 Flames! 🔥🔥🔥 pic.twitter.com/tjesy3r3Y4

— Robert Munnich (@RingOfFireCGY) January 14, 2023
Least Impressive Player – Darryl Sutter
While there were a multitude of players that could fit the bill as least impressive, I didn't choose an actual player because I firmly believe that Darryl Sutter has been one of the reasons that this team has underperformed so heavily. Since the beginning of the year, his lineup decisions have been somewhat baffling. From Lucic as a top 6 winger to not putting the kids in a position of success, it's pretty clear that something is going on behind the scenes. Add in the fact that the Flames as an organization have taken a sudden change in direction since he's been on, I believe that Darryl Sutter as a part of the organization will do more harm than good in the long run.
Don't get me wrong, I still think he's a good coach. His systems work (for the most part) and he's very clearly had a positive impact on the way this team plays hockey. However, looking at his past, there's a reason his teams only go as far as his goalies take them. His 2004 SCF appearance with the Flames was on the back of Kipper being Kipper. His 2012 championship with the Kings was on the back of an incredible .946 save percentage playoff run by Jonathan Quick.
Have you noticed that the Flames have started drafting differently as well? Since Sutter became coach, they went from prioritizing small and skilled to drafting big and tough. Now, rumors from daily faceoff have said that there's a rift between Treliving and Sutter as the latter now wants to be GM. If that's the case, this team is headed for a dark era in Flames' history.
Frank Seravalli also sensing a rift between coach and GM in Calgary. Says his read on Darryl based on interviews he does is that he ultimately wants to be GM.

Love that for us 🤦🏻‍♂️

— C of Red Central (@CofRedCentral) January 19, 2023
Next 5 Games: Nashville, Colorado, Tampa Bay, Columbus, Chicago
All data is taken from naturalstattrick. Betting odds via Betway.