A top line in crisis! (Just kidding)
Life's been a bit rocky for our Calgary Flames. Losers of six straight games, the narrative is turning to turnovers, blown leads and overtime heartbreaks. So now seems like the perfect time to panic about the top line's lack of production.
What a difference a year makes.
At the beginning of the 2021-22 NHL season, if you'd have told me that the Calgary Flames' top line would would be the best in the league, netting a collective 124 goals, I'd have laughed at you. I'd have been pleased by your optimism. But I'd have offered a healthy guffaw nonetheless.
Yet, that's exactly what I got. Along with rest of the Flames faithful, I rejoiced watching the quicksilver ballet that Johnny Gaudreau, Elias Lindholm and Matthew Tkachuk offered up night after night. It was electric.
More importantly, it fueled the fires of optimism among the fan base. This Calgary Flames team was…legit.
Fast forward a year and, in case you hadn't heard, two thirds of that top line have moved on. They chose sun-soaked vacation spots like Miami, Florida and…..Columbus, Ohio. So the burden falls on Elias Lindholm to centre the team's top line.
The early results have been mixed, and that's being kind. The presumptive 'number one' line consisting of Lindholm, Jonathan Huberdeau, and Tyler Toffoli have combined for merely 10 goals through 12 games thus far. And only four of those have come at full strength.
In the early weeks of the season, this lack of production was being veiled by a 5-1-0 start. But as October turned to November, the losses started to pile up. The Calgary Flames sit, as of this writing, 0-4-2 in their last six.
So, we should start to panic now, right? I'm not so sure. Two significant factors need to be considered in order to fairly assess the top line of this team.
Final

2

3
Personnel
This one's obvious. But it needs further consideration.
It's true, Gaudreau and Tkachuk are gone. Elias Lindholm somehow needs to build chemistry with Huberdeau and Toffoli. This cannot, will not and should not happen overnight. Huberdeau and Toffoli are different players, one of whom came from different systems played on the other side of the continent.
Comparisons to last year's top line production are unfairly made. It is absolutely true that the Gaudreau/Lindholm/Tkachuk trio had 17 goals after 12 games, 10 at full strength. They combined for at least 10 more points than this year's Huberdeau/Lindholm/Toffoli group.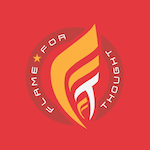 Want your voice heard? Join the Flame For Thought team!
Write for us!
But nobody seems to recall that Gaudreau, Lindholm and Tkachuk had spent half the previous season as a line. Nor does anyone seem to point out that they were on the same team for at least 5 years prior to becoming a line. They practiced together, traveled together and watched each other long before playing together.
How, then, can watchers of the Calgary Flames POSSIBLY expect the same results out of three relative strangers? Answer: they can't. They shouldn't. And to think otherwise is impatient and unfair.
Expectation
When Gaudreau and Tkachuk left, Lindholm wasn't the only one left behind. The entire Calgary Flames fan base was as well. And with them, the media machinery that reports on the team also stayed behind.
But, most importantly, what remained is expectation.
All those memories from last season are still around. And those memories have been fueled by the media's narrative about this version of the Calgary Flames. And that narrative has created expectation.
After the team acquired Huberdeau, Mackenzie Weegar and Nazem Kadri, who among us didn't read articles or listen to podcasts asking whether this year's Calgary Flames team is actually better than last year's? Hell, WE even did it!
The problem is that it makes no difference what the articles or podcasts or insiders actually said in answer to the question. The problem is that we the fans EXPECT them to be better. We acquired the best passer in the league (according to Darryl Sutter). How could we not get better?
So what now?
.@MFradiology Injury Update: Jonathan Huberdeau (upper body) is day-to-day. pic.twitter.com/o3drgpAUMV

— Calgary Flames (@NHLFlames) November 8, 2022
Let's all slow down a bit. Chemistry will come, but not immediately (even less so now that Huberdeau is sidelined for a bit). These players are too talented. Let's take our collective expectation and sit on it for a bit. Let's let growing pains be growing pains and revisit our collective panic in February.
Sound good?