Calgary Flames: What is Andrew Mangiapane Going to Cost?
Calgary Flames forward Andrew Mangiapane proved himself a valuable NHL player. What will his next contract look like?
The Calgary Flames took a late gamble in the 2015 NHL Draft on an over-aged, but extremely skilled winger. The gamble has certainly paid off for them thus far, but it is now going to get very expensive.
Andrew Mangiapane went undrafted in 2014. He scored 24 goals and 51 points for the Barrie Colts in 68 games. Not bad production from an OHL rookie. Had he been 6'3″ he probably would have been drafted in the second round. Since he is 5'10" he had to watch 210 players get drafted, but not hear his name called.
The Toronto, Ontario native followed up that solid rookie campaign with a much better one. He scored 43 goals and 104 points in 68 games and added ten more points in nine playoff contests for the Colts.
Still, he had to wait a very long time before the Calgary Flames selected him. The right winger was taken in the 6th round of the 2015 NHL Draft, waiting for 165 other players to be taken before him. It must have been a long wait for a player that had scored 155 points in two OHL seasons to that point in his career.
The scrappy, skilled winger has since become an NHL regular. He forced his way into the Flames lineup in the 2018-19 season after scoring 17 points in 15 AHL games. He suited up for 44 NHL games but mostly played on the fourth line.
This season, he proved to be more than a fourth line winger. He scored 17 goals and 32 points in 68 games. That put him 6th on the team in scoring and he had almost no power play time. Of his 32 points, 31 of them came at even strength which is one less than Sean Monahan and Mikael Backlund.
A year ago, after becoming an NHL regular, Mangiapane was a restricted free agent. He signed on the eve of training camp to a one-year contract with a $715,000 cap hit. Now, that contract is up and he is once again a restricted free agent. This time, he will be getting paid far more money.
For starters, Mangiapane has arbitration rights this offseason for the first time. That gives him a little leverage in negotiations. If the team and player can't come to an agreement before the arbitration date, a third party will tell the Flames what they have to pay Mangiapane next season.
With a flat cap and the team close to the cap ceiling, do they want to take that risk?
Probably not. So, what will it take to get Mangiapane to sign before arbitration? With 17 goals and 32 points in 68 games, Mangiapane was on pace for a 20 goal season with close to 40 points. He isn't the central component of the team's offence, but he is a solid secondary guy and at 24 years of age he has the potential for more.
A year ago, Pavel Buchnevich was in a similar spot. He was 24 years old and coming off a season where he scored 21 goals and 38 points in 64 games. That is a little more production that Mangiapane, and the Russian winger signed a two-year deal with a $3.25 million cap hit.
Anthony Beauvillier was just 22 when he was a restricted free agent a year ago. He scored 18 goals and 28 points in 81 games, though he did have a 21 goal season the year previous. He signed a two-year deal with a $2.1 million cap hit.
J.T. Compher and Alex Kerfoot were in similar positions as well but they went a little longer term.
Compher scored 16 goals and 32 points in 66 games with Colorado Avalanche in 2018-19 before signing a four-year extension with a $3.5 million cap hit. Kerfoot had 15 goals and 42 points and was traded before signing a four-year contract with the Toronto Maple Leafs with a $3.5 million cap hit.
These comparables would tell you that the cap hit will depend on the term. If the Flames and Mangiapane want to go shorter term, a two-year deal with a $2.25 million cap hit would probably work. If they want to go longer term to keep Mangiapane around into his potential UFA years, a four year contract with an average salary of $3.3 million would do the trick.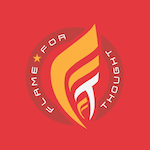 Want your voice heard? Join the Flame For Thought team!
Write for us!
Either way, Mangiapane is going to get a big raise on his current contract. The length of that deal will likely determine the average salary. Whether they go long term or short term, if Mangiapane continues on his current trajectory, he could be a bargain again in the near future.