Calgary Flames: Don't Expect a Buyout This Year
The Calgary Flames have used a couple of buyouts recently. Don't expect to see one this year.
The Calgary Flames have been forced to go the buyout route a few times recently. A buyout kind of gets you out of trouble with bad contracts, but it isn't necessarily a get out of jail free card. You do pay less, and it is spread out over a longer period of time so it makes the player's cap hit a little easier to devour.
In general, the calculation of a buyout is, a team pays two-thirds of the player's remaining money, but it is spread out over twice the actual length.
So, if a player is supposed to make $6 million for each of the next two seasons, he would be owed a total of $12 million. If he was bought out, the team would be on the hook for $8 million, but instead of having to spend it in two years, they spread it over evenly over four years. So, that $6 million cap hit for the next two seasons becomes a $2 million cap hit for four years instead.
It saves a team some trouble in the near future but gives them a smaller problem to deal with down the road. It gets far more complicated then there are signing bonuses involved. Essentially, you can't get out from a signing bonus so that would be added to the cap hit each year there is a bonus in the contract.
The Flames recently bought two players, starting with Troy Brouwer in 2018. He had two years left with a cap hit of $4.5 million but was bought out. That put the winger on the Flames books for the next four seasons at $1.5 million. So, it saved them $3 million each of the last two years, but now instead of him being gone, he takes up $1.5 million for the next two seasons as well.
Michael Stone was bought out of the final year of his contract last summer. The Flames reduced his cap hit from $3.5 million in 2019-20 to $1.167 million. Of course, they then signed him again for $700,000 which was a pretty unique situation. They were both paying him a salary but also paying him more on his buyout agreement.
That is two consecutive years the Flames used their option to buyout a player to free up space. I think the streak is going to end there.
If the team had a way to get out from the Milan Lucic contract, I'm sure they would. He was acquired from the Edmonton Oilers last summer and has three more years with a cap hit of $5.25 million. The veteran left winger did have a great postseason, but he scored just eight goals and 20 points in 68 regular season games. Lucic is still an NHL caliber player, just not at that price tag.
The problem is, he has plenty of signing bonus money still owed to him. His salary for the upcoming season is just $1 million, but he was already paid a bonus of $3 million. Next season, his bonus is $2.5 million and the final year of his deal guarantees him another $3 million bonus.
If Lucic was bought out today, it would only save the Flames about $500,000 for the upcoming season and the final year of his deal as well. They would save about $1.75 million for the 2021-22 campaign but would also be tabbed with an additional cap hit of $500,000 for three years following the expiry of his contract.
Other than Lucic, there are no real potential buyout candidates on the roster. Derek Ryan might be a tad overpaid at $3.125 million since he will be a fourth line centre next season. But the Flames knew exactly what they were getting when the signed him to that contract two years ago and his production has stayed the same as it was before he came to town.
Ryan had ten goals and 29 points in 68 games last season. He had 13 goals and 38 points in 81 games in 2018-19 for the Flames. His final season with the Carolina Hurricanes he scored 15 goals and 38 points in 80 games. That's pretty remarkable consistency and real good production from the bottom six forward.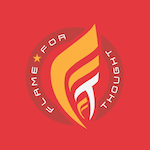 Want your voice heard? Join the Flame For Thought team!
Write for us!
The Flames aren't quite as tight to the cap as they were in previous seasons. They could be busy in the offseason, but it should be all additions this year, and we won't see anyone bought out and removed from the roster.