Calgary Flames: Will Mark Jankowski Return Next Season?
The Calgary Flames have plenty of cap space to bring back their free agent forwards, but will they all return?
The Calgary Flames turned a few heads when they selected Mark Jankowski with the 21st overall pick in the 2012 NHL Draft. Jankowski was ranked in the middle of the second round by most, and was the 43rd ranked North American skater by Central Scouting.
But, Jay Feaster, who was general manager at the time, thought they could slowly develop the big centre into a top six middle man with size, power and offensive creativity.
That uhhh, hasn't quite worked out as well as they planned.
Jankowski was playing high school hockey in 2011-12, preparing to go to Providence College. He played four seasons at Providence after being drafted in the first round and slowly developed into a dangerous offensive player at the school. He started by scoring seven goals and 18 points in 34 games as a freshman and in his senior season he scored 15 goals and 40 points in 38 games.
The 6'4″ and 210 pound centre had a solid first pro season, scoring 27 goals and 56 points in 64 games for the Stockton Heat in 2016-17. The following season was played primarily in Calgary, and he had decent numbers for a rookie. He scored 17 goals, but had just eight assists which gave him 25 points in 72 games.
He followed that up with 14 goals and 32 points in 79 games which would lead many to believe he was taking steps in the right direction. This season, the Hamilton, Ontario products numbers plummeted. He had just five goals and seven points in 52 games.
When everyone was healthy, it was hard to make a case for Jankowski even being in the lineup.
Now, the former first round pick is a restricted free agent. To keep his status as a restricted free agent, the Flames would have to offer him a qualifying offer that matches last year's salary. Jankowski's cap hit for the past two years was $1.675 million, but his actual salary last season was $1.75 million.
So, if the Flames want to keep him, they have to offer him at least $1.75 million on a one-year deal. They could, in theory, not give him a qualifying offer and then try to negotiate a contract at a lower cap number, but if he isn't qualified, he would be able to test the market as an unrestricted free agent and would likely choose to see what is out there.
The Flames currently have about $17 million to spend before they reach the cap. However, that doesn't mean they can waste any money. They have some big needs like a starting goaltender and a top four right defenceman and ideally another top six right winger that shoots right and scores goals.
Those three things are going to cost a lot of money. Also, the Flames are pretty deep at centre at the moment. They have Sean Monahan and Mikael Backlund in top six roles but could also be tempted to find room for Elias Lindholm down the middle at some point. Sam Bennett looked great playing centre in the postseason and could take the third line role. Derek Ryan far outperformed Jankowski last season and is an ideal fourth line centre.
Where does that leave Jankowski? It probably leaves him without a qualifying offer. There is no need to spend $1.75 million on a 13th or 14th forward. That doesn't mean the Flames can't offer him $900,000 to come back for a year or two, but without a qualifying offer, he will likely test the market on October 9th first.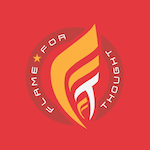 Want your voice heard? Join the Flame For Thought team!
Write for us!
So, will Jankowki be back next season? Maybe. But only if he takes a look and realizes the grass isn't greener on the other side and he is willing to come back at about half the salary he earned this season.