For the first time in a long time, the Calgary Flames have two goaltenders that they can rely on. One is a seasoned veteran and Vezina finalist. The other, an up-and-comer seemingly destined for a starting job of his own one day. What does this season hold for our puck-stopping pair?
The announcement came without much fanfare.
There was no press conference. No grand presentation. It simply passed over the newswire and social media universe on October 20th that Dan Vladar had signed a 2-year, $4.4 million dollar contract extension with the Calgary Flames.
Neither the gravity of the announcement nor the contract itself came as any great shock to Flames fans. After arguably the most tumultuous summer in team history, the extension of a backup goalie is a fairly ho-hum piece of news.
What did come as a surprise, to me at least, was Vladar's rapid ascendance
Plucked last season from relative obscurity, the 6-foot, 5-inch Czech played only 23 games last year. And, at times, it seemed like he could never get on Head Coach, Darryl Sutter's good side. There was a time when I thought Vladar wouldn't be back.
Yet, Vladar showed up to the 2022-23 training camp and impressed. So much so that Sutter started Vladar on October 15th against the Edmonton Oilers in what many considered to be a revenge game for the Calgary Flames following their unceremonious defeat in the playoffs last season. He walked out of that with a 4-3 win. The contract extension soon followed.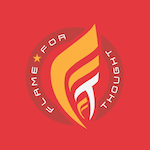 Want your voice heard? Join the Flame For Thought team!
Write for us!
All this to say that Vladar seemingly went from Sutter's outhouse to his penthouse in a very short time. The surprising part of that isn't that it happened quickly. Hard work in an offseason can work wonders. The surprising part is that all this improvement has generally been unseen by the general public.
Vladar certainly seemed to have a good Calgary Flames training camp. And he looked good in pre-season games. But how does all this add up to a million dollar raise?
Time will tell, I'm sure.
Perhaps the one person most astonished by Vladar's October 15th start against the Oilers was Jacob Markstrom. Given his lackluster performance in last year's playoffs against Edmonton, one would think Markstrom would've been chomping at the bit for a redemption game. Yet, he was denied.
Justifiably so, in my opinion. Despite being unbeaten in the previous outing, Markstrom looked uncharacteristically shaky. He failed, for instance, to stop the first goal on first shot of the first game of the regular season.
Even after the game on the 15th, Markstrom let a couple pass that he'd like to have back. Most notably, one slipped over his glove against Vegas on October 18th.
It is an interesting study in contrasts. One goalie has gone almost literally from rags to riches in very short order. The other, one of the few true "number one" goalies in the NHL, has started to show signs of, if not weakness, inconsistency.
The narrative from the coaching staff is a bit confusing as well. When Vladar started against the Oilers, Sutter was quoted as saying that he'd like to see his backup start once a week throughout the regular season. This was music to the ears for those of us who thought Markstrom played too much last year, perhaps contributing to his poor showing against Edmonton in the playoffs.
Yet, when Markstrom was finally given his opportunity to start in the second instalment of the Battle of Alberta in Saturday, Sutter seemed to change his tune. He said that there is a clear number one goalie on this team and he needs to play.
So, which is it?
Now, I fully understand satire of over-analyzing the goaltending situation when the team has played fewer than 10 games. It's even more ridiculous when one considers they've only lost twice in that time. There is not a problem here, and I'm not implying there is.
Ultimately, my hope is Vladar's rise to success allows Markstrom more games rest. Both will be needed if the Calgary Flames are to get anywhere in June.