Calgary Flames Need To Re-Sign GM Brad Treliving – And Fast
Right now, the Calgary Flames GM's contract expires this off-season. And the Flames better get a move on re-signing him or some other team will pick him up.
Now with the Calgary Flames season being over and done with, there isn't a whole lot to talk about with this team. We have who will be protected or exposed come the expansion draft. Then there is also the goalie situation, but what's new with this. That's a hot topic for the Flames basically every year. And lastly, we have the GM Brad Treliving.
Treliving's contract expires this off-season. In fact, the Flames apparently have 50 hockey operations contracts expiring this year. Looks like they'll be having a busy off-season.
Calgary GM Brad Treliving is scheduled to meet with ownership some time this week. The word around the league is he wants to stay. That's always a positive, because without a willingness to make a deal, it becomes exponentially harder.

There's a real sense of, "They're not seriously going to get rid of him, are they?" But I think it comes down to the Flames' offer. If it's market value, everything's OK. If not, there's trouble. And if it doesn't work out, I wonder if Calgary will take a long look at Craig Conroy. His time is coming.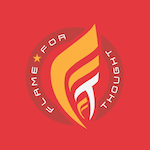 Want your voice heard? Join the Flame For Thought team!
Write for us!
So if Treliving isn't signed to Calgary soon, then another team will snag him up. And TSN's Bob McKenzie has tweeted that the longer the Flames go without signing Treliving, the more unsure he's getting.
But Treliving has done some excellent work with the Flames and he's an excellent negotiator. He got 2011 9th overall pick Dougie Hamilton on a great deal: for the Flames 15th overall pick and two second-round picks at the 2015 draft. He also got goaltender Brian Elliott on a great deal with just trading the Flames' 2016 second-round pick and a 2018 conditional third-round pick.
The worst contract that was going on this season? The Dennis Wideman contract. And what Treliving wasn't responsible for? The Dennis Wideman contract.
Our friends over at Flames Nation highlighted some of the best and worst moves Treliving has made, which can be found here. What they also mention as part of Tre's best moves is the Kris Versteeg signing, which was a great signing. Versteeg was on a PTO with the Edmonton Oilers but signed with Calgary instead for basically the same price that Edmonton was offering and it was less than $1 million. He was brought for his veteran playoff experience and it definitely showed throughout the playoffs this season.
Versteeg also mentions how he would love to stay with the Flames.
"I can't properly put into words how much I've enjoyed this season." Said Versteeg. "It's been so special. Just having everyone around – family, friends – has made me super comfortable. My kids being consistently around their grandparents, you can't put a value on that.

"It's made my, our, living situation so much better. I've been away for so long, in other cities, and I think everyone wonders what it'd be like to be able to play in his own backyard. The other places I've been through my career have all been great experiences.

"But you only have one home, right?

"So from a personal standpoint, I could not have asked for more.

"And this team? Like a band of brothers. Just fantastic."
Versteeg also mentioned that if he was in Switzerland by the time September comes, his agent's getting fired. So let's hope he stays here.
But back to Treliving, something else that Flames Nation highlighted was the Glen Gulutzan and coaching staff hiring. Now, a lot of Calgary Flames fans were unhappy to start the season, and why wouldn't they be? The Flames were one of the worst teams in the league come November and the coaching staff wasn't doing the best. And I'll admit, I was also impatient and I wanted them gone as well.
But Treliving had faith in the coaching staff and was patient with Glen Gulutzan's method. And it worked. Since January 26th, the Flames were one of the best teams in the entire league and the Flames broke some Calgary Flames records with their ten-game win streak in February and March and tied an Atlanta Flames record that dates back to 1978-1979.
Gulutzan reflects on his first season with the Flames and was very proud for how much they connected and he can't wait until September again when it's hockey time.
"What was I most proud of about the year?" Gultuzan thinks on that a moment. "Hopefully, the way our team was connected on and off the ice. We worked hard in doing that.

"Through 82 games, I thought it was a growth year. The guys enjoyed themselves, I think. I know they worked very hard.

"I just thought we were a very together. And that's important."

"But … there'll come a time in September," acknowledges Gulutzan, from years of experience. "There always does. A time when you say to yourself 'OK, I've had enough of the lake. Had enough quiet. Had enough Crown Royals.'

"When you're batteries are re-charged, when you're chomping at the bit, when you're ready to go back to work.

"When it's hockey time again."
Sorry I keep getting sidetracked. Let's go back to Treliving.
Of course, there were some moves that weren't the best of moves. But what GM doesn't make a any mistakes?
Worst moves
Flames Nation pointed out the worst moves, which were:
Troy Brouwer signing
Deryk Engelland signing
Lance Bouma signing
Paul Byron lost on waivers
Three headed goalie monster to start the year (2015-16)
Brandon Bollig trade
However, the Troy Brouwer signing, I can see why and how Treliving was confident in that signing seeing how much veteran experience he could have provided to the team, especially in the playoffs, and seeing how well he's performed for the last few years. I don't know what happened with Brouwer this year and why he had a fluke season, but at least we know that he most likely won't be protected in the expansion draft.
I can also somewhat understand the Lance Bouma signing, and he isn't signed for a whole lot (avg. salary of $2.2 million). But good news for Flames fans who aren't fans of Bouma is that he's a free agent after next season and he most likely won't be protected in the expansion draft, meaning he could potentially go to Vegas.
Deryk Engelland is also a free agent this year, so we don't need to worry about that now.
Unspoken best moves?
When people think of the best moves made under Treliving, there are a few that I think were good ones that go kind of unspoken, some underestimated ones.
Johnny Gaudreau re-signing
One was the Johnny Gaudreau re-signing. This was a long negotiation, but I think the Calgary Flames management got what they wanted, further proving Treliving's negotiation tactics.
First, Johnny Gaudreau's agent wanted for Gaudreau to be signed for $8 million salary. However, the Flames were trying to avoid paying him more than captain Mark Giordano, who is currently averaging $6.75 million a year. But the Flames also wanted to sign Gaudreau on a long-term contract and not make the mistake of signing him for only three years and have Gaudreau become a free agent once he reaches his mid-late twenties and potentially his peak.
So Johnny was signed on a six-year $6.75 million. This is almost exactly what Flames management wanted to I personally believe this was an excellent signing by Treliving.
I also just want to point out that this was Johnny Gaudreau's off-year, but 61 points in 72 games in an off-year is still pretty dang good in my books. He'll also be playing for Team USA at the World Championships in a couple of weeks and it's also his third straight 60-point season. He'll be here for a long time.
Michael Stone trade
Another one is the Michael Stone trade. I know Stone wasn't incredible by any means, but with him, it changed the dynamic of the team and it meant that Dennis Wideman would be benched – something Flames fans were ecstatic about. But the Flames got Stone on a great trade. Only a 2017 third-round pick and a 2018 conditional fifth-round. Let's just hope that third round pick won't be another Johnny Gaudreau or anything (who was taken in the fourth round in 2011) and we'll be good. With this trade, the Arizona Coyotes also retained half of Stone's salary, again proving Treliving's negotiation tactics.
The Flames also acquired yet ANOTHER Mike with this trade which is always a fun move for the fans. There's everything about the trade and a Twitter reacts section for another Mike that we put out when the trade happened here.
Curtis Lazar trade
Again, I know this wasn't the best trade in the universe, but Curtis Lazar is a young kid with a lot of potential for talent. The Calgary Flames managed to snag him up on a trade-deadline day trade and also acquire Michael Kostka (who was sent to the AHL right away) in exchange for Jyrki Jokipakka and 2017 second-round pick (look another Mike).
Lazar all year with the Ottawa Senators had just one goal in 33 games. With the Flames, he had one goal and two assists in four games. Like I said, he has a lot of potential and with some training, this kid could be really good and the Flames may have just gotten him on a steal.
"I think," said the newest Calgary Flame, "that Flames' fans are going to fall in love with my smile right away. They'll be able to tell. When I'm loose, I'm playing around, having fun, I'm smiling. That's when I'm playing my best and I'm looking forward to doing that in a Flames' jersey."

"There's a reason I was a first-round draft pick in 2013. I kinda got away from that. A lot of the game is mental and that's where most of my mistakes were coming from. To eliminate that and just get back to having fun."
Alex Chiasson trade
Again, this wasn't an amazing trade, but I'll get into why this was an underestimated trade in my books in just a minute. But Alex Chiasson was traded to the Calgary Flames in June after not coming to deals with the Ottawa Senators over a new contract.
The Flames traded Patrick Sieloff in exchange for Chiasson. Chiasson was signed on a one-year $800,000 contract with the Flames. A super inexpensive player, right? Well, let's look at how he compares with a player like Troy Brouwer this season:
Troy Brouwer: 13 goals, 12 assists, -11, 16:13 TOI/GP.
Alex Chiasson: 12 goals, 12 assists, -6, 13:23 TOI/GP.
Chiasson practically performed just as well as Brouwer did, only for way way cheaper. So again, this wasn't the best of trades, but seeing how Chiasson did this season, he did exactly what he was supposed to do. And this was an underestimated move, in my opinion.
So what will happen if Treliving doesn't sign here? Will he sign with Buffalo? All I know is that the Flames have a brilliant young team with lots of potential and the Calgary Flames would make a big mistake to not sign Treliving to a contract extension.
And if they don't, another team will definitely snag him up quickly. So the Flames need to get a move on quick or they may lose out on something big here.